We know that time is a precious resource for educators. We also know that properly planning a capstone or longer-form essay project with your class can soak up hours. Kialo Edu can save you time on these crucial exercises while losing none of the learning benefits for the student—a win/win!
With its integrated referencing, clear structure, and requirement to consistently refer to a core assertion, Kialo Edu is well suited for helping students plan essays. But not only does Kialo Edu make sound pedagogical sense for essay planning, it also has some great features to help you shave precious hours off your marking and admin time!
Bibliography building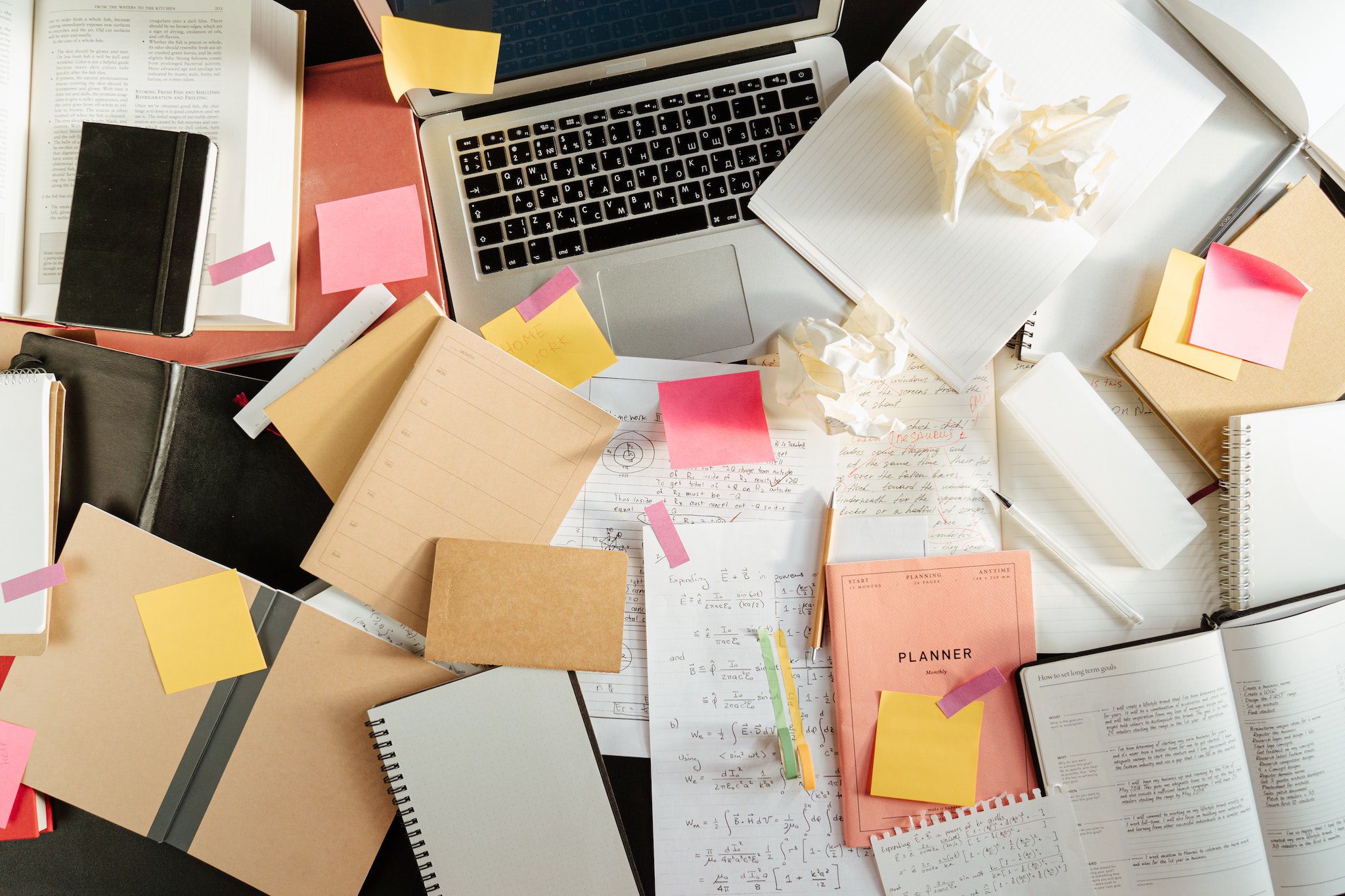 For research-based essays, students unsurprisingly have to do a lot of research. But checking your students' sources can be a huge time sink. For every student that neatly collects their notes in a single binder, there is another whose note-taking could only be described as "expressionist."
Kialo Edu can save you a lot of this work. As students can directly reference online and offline sources into claims in a discussion, you can ensure that students use sources with purpose. Our Sources sidebar also allows you to view all sources a student has used in the discussion in a list. This gives you a quick overview of the sources they've used, creating a proto-bibliography for your student as they work.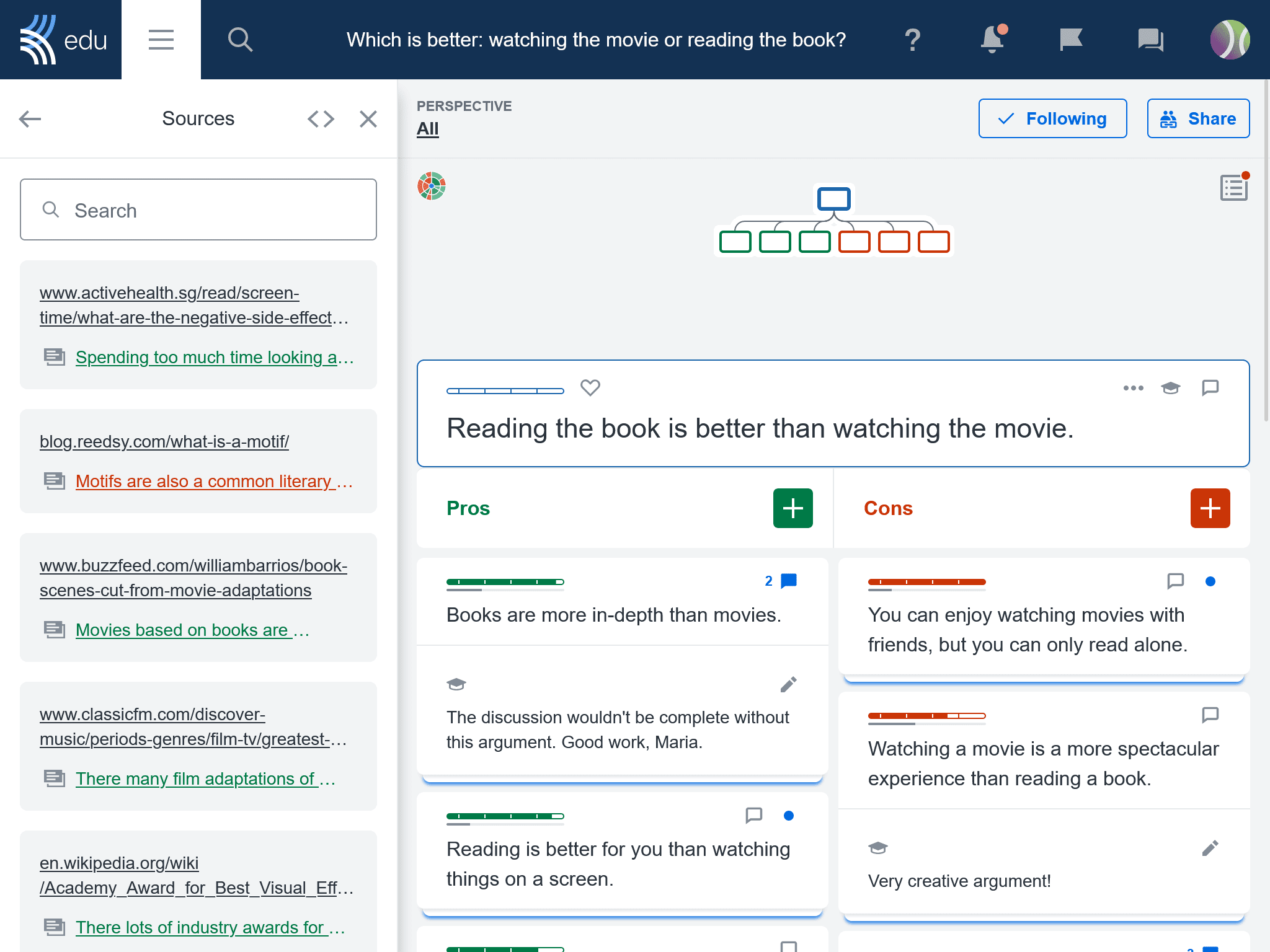 No more retreading
It can be tough to recall how a student has developed their argument over weeks or months. Thankfully, if your student planned their essay on Kialo Edu, you can see a convenient timeline of the development of their ideas. No more flipping through old drafts and comparing paragraphs!
Each discussion has a timeline of student contributions and edits in the Activity tab under the Notifications bar (the bell at the top-right of your screen). Change the filter to just your student and voilà: a handy list of all the changes your student has ever made in the debate.
You can also see a student's edit history on a specific claim by clicking the claim itself. This is useful if you've given feedback on a claim and want to see how a student has implemented it.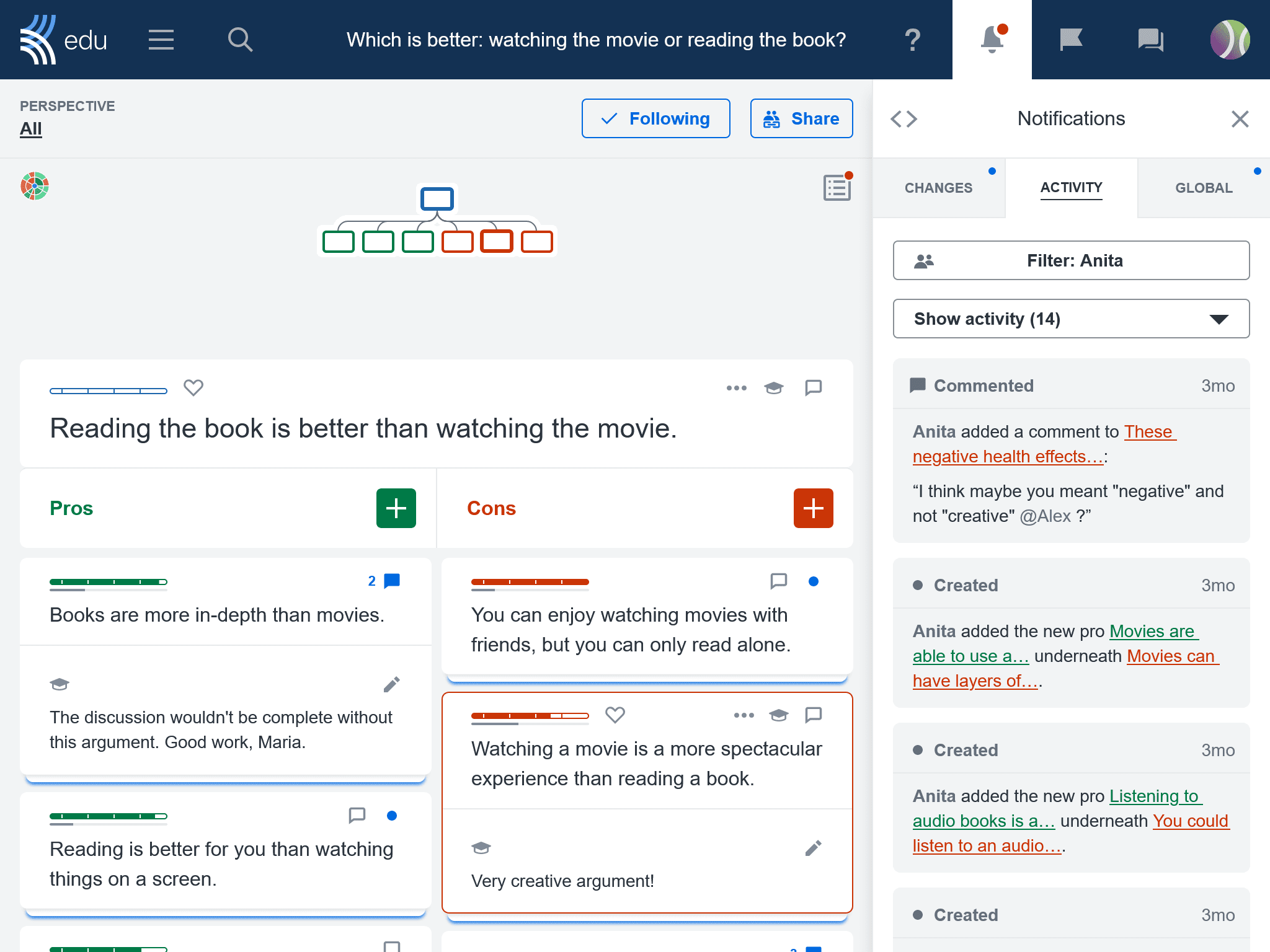 The entire debate is also searchable. If you want to see how your student's understanding of a particular aspect has developed over time, just type the relevant keywords into the search bar at the top-left of the screen. All claims relevant to that topic will be listed, letting you quickly see how much they know (or don't!) about your query.
By using Kialo Edu to keep track of all this information, you can better understand how your student has researched and developed their argument without trudging through their past work. Another time saver!
Easier feedback and polished essays
One great way to ensure your students have made a robust argument is by using Teacher Feedback, shown by the graduate cap icon at the top-right of all claims. This feature attaches your feedback to the bottom of the claim, making sure your student sees it even when just skimming the debate.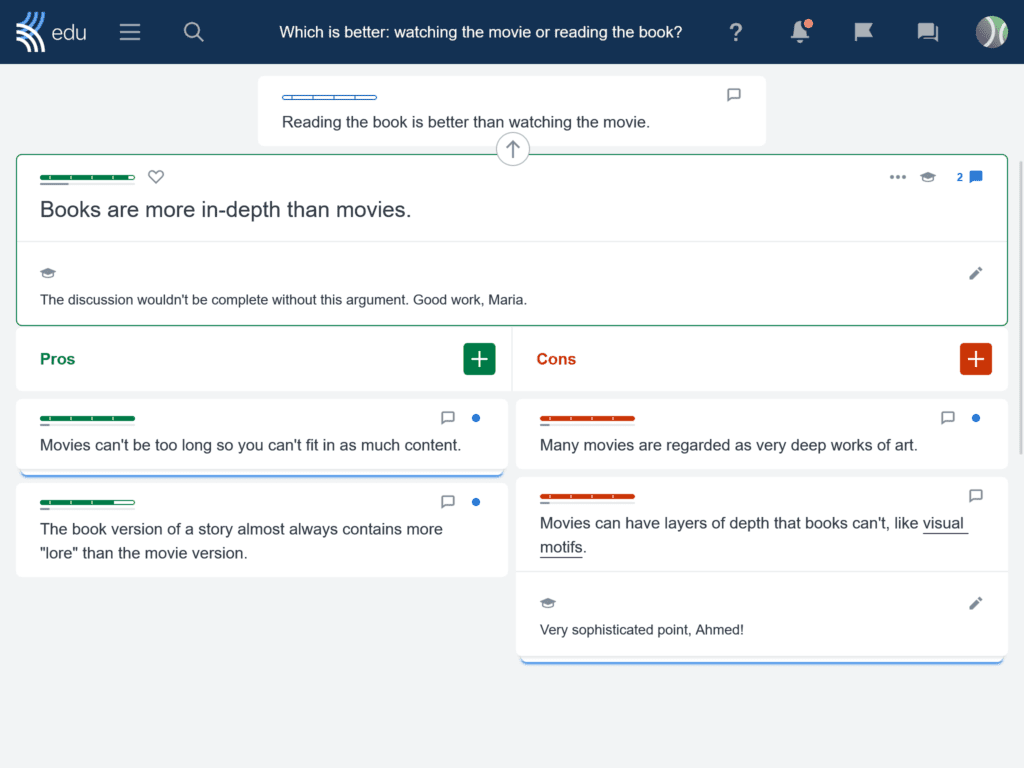 If you help your students get their ideas in order before they put pen to paper, you'll save yourself marking time when you read their full essays. No more correcting basic logic and argument errors, so your students have more time to focus on polishing their grammar and writing style!
Kialo Edu across the board when essay planning
Long-form essay writing can challenge students' brains and teachers' workloads. But Kialo Edu can help with both! Why not trial essay planning with your students by using one of our pre-made templates (we have both curricular and icebreaker topics), and take a look at other ways in which Kialo Edu can enhance your students' learning? We'd love to hear how you've incorporated using Kialo Edu in your class — let us know on our Twitter, Facebook, or directly at feedback@kialo-edu.com!