For students that have grown up thoroughly in the digital age, it is more important than ever for teachers to find new ways to engage and excite them. If you are looking to have interactive, student-driven class discussions, Kialo Edu's many tools and features are bound to be a great asset in your digital teaching toolkit! 
Kialo Edu has so many great uses, from holding classroom debates, mapping out a topic, planning long-form essays, or even using it in place of an essay. Here are our six top features for educators that you can use for engaging activities with your students.
1. Use Tasks to engage students by setting achievable objectives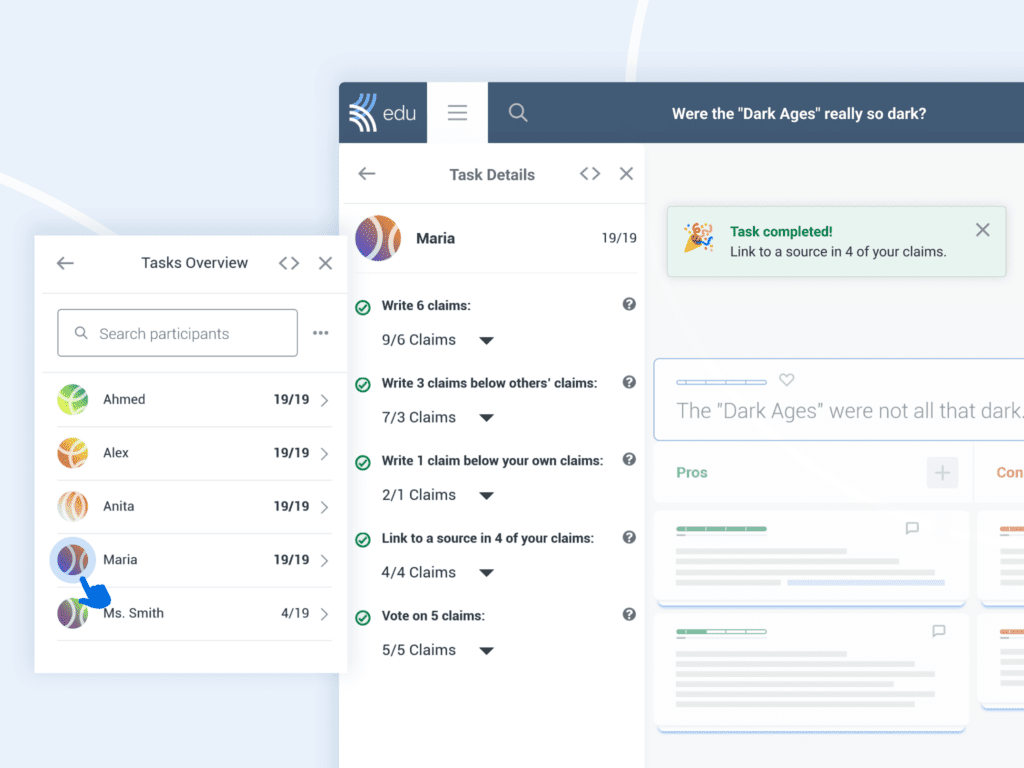 You can use Tasks to engage students, giving them a clear list of objectives to complete. This set your students a number of claims to make and sources to add to a discussion. The latter is particularly useful in reminding students to cite their sources!
Tasks can be especially useful in class-wide activities to track individual student contributions. It is also a great way to scaffold a student's work in projects that require multiple stages of feedback as you can give them different tasks at different stages of their project.
Using Tasks couldn't be any easier! You can add tasks for students to complete directly in the Create Discussion Wizard. Otherwise, after you make the discussion, click the
icon on the top-left of the discussion to open the Discussion Menu, navigate to Settings and click on the Tasks tab. From there, you can enable it to set the number of claims, sources, and votes you wish each student to complete.
2. Give direct grades and clear feedback for students to implement
Once you've set your students an assignment on Kialo Edu, you can easily give them individualized feedback and grades. This means you can give highly focused feedback on students' claims while assigning a grade. You can also leave an overall grade and feedback for students' work on a whole discussion.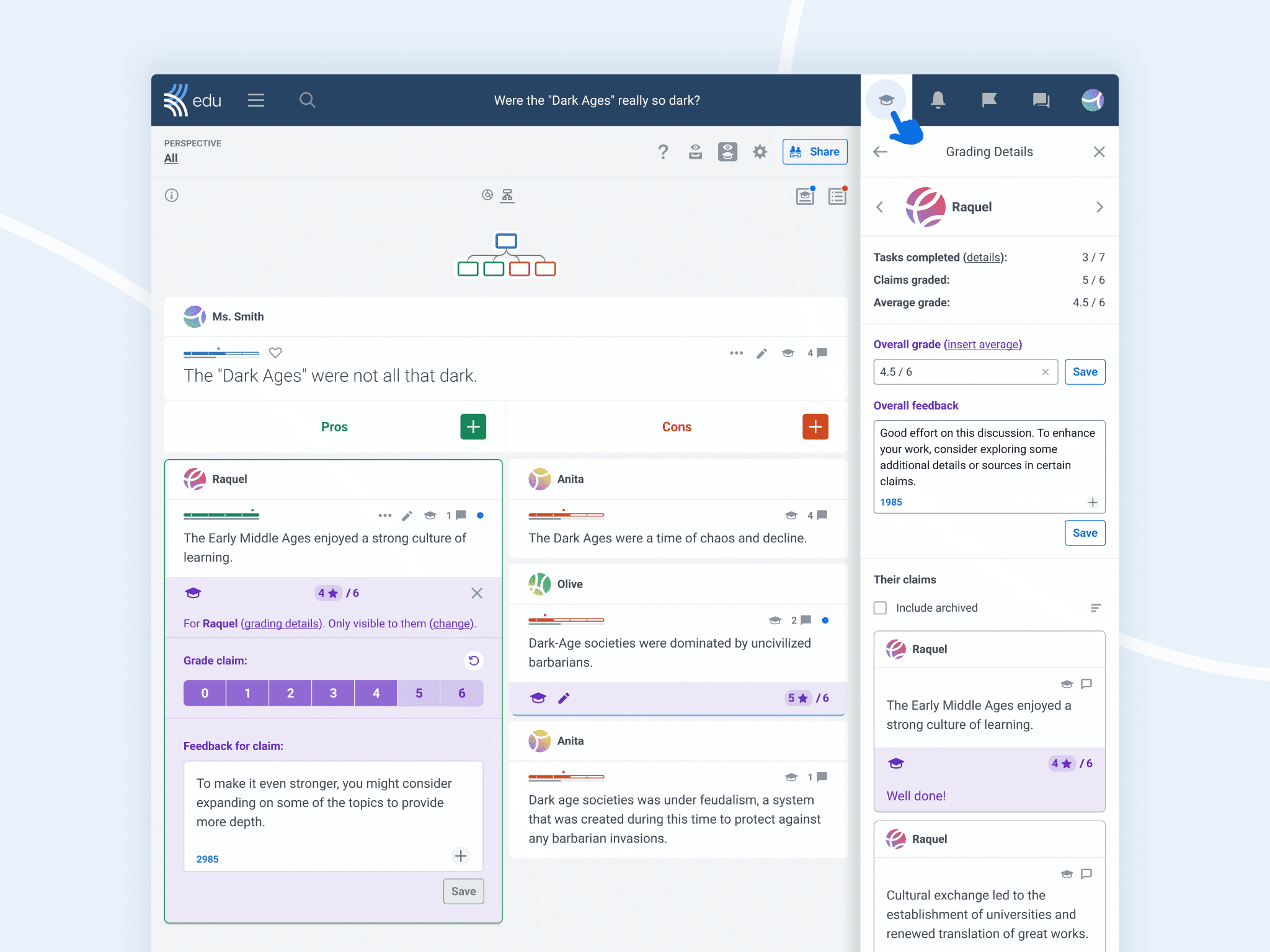 You also have the option of hiding all your feedback until it's ready for students' eyes. This allows you to take your time in writing and editing it without the pressure of your students getting notified about your changes!
The process for implementing teacher feedback is similar to that of tasks. Once you open the Discussion Menu of the discussion you're working on, you can open the Discussion Settings tab, scroll down to the section entitled Teacher Feedback and click the option to enable it.
3. Get students talking with Instant Access discussions
Instant Access links are the quickest way to make sure your students can access and start working on Kialo Edu assignments. With this feature, you can create links to Kialo Edu discussions that students can instantly access without creating accounts, meaning less time spent on setup!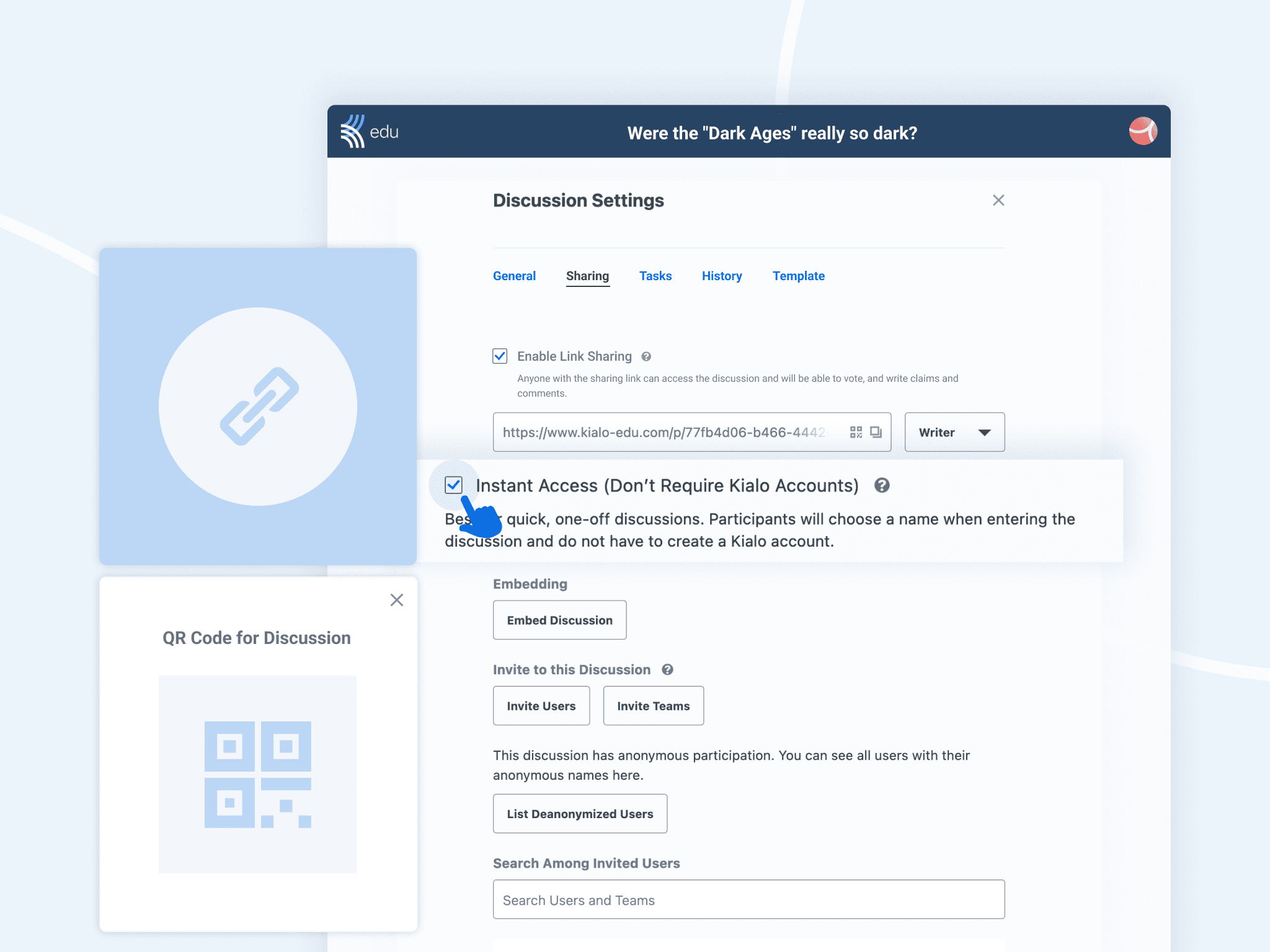 With these links, you can also assign your students certain permissions in the debate. If you just want students to contribute claims, you should give them Writer rights, whereas if you want them to be able to edit and move other students' claims around, you should give them Editor rights.
To enable Instant Access links, open the Discussion Menu of your discussion, click on the Discussion Settings tab, and then the Sharing section. Check the Instant Access option and select the roles for your students. Now you can share the link or QR code with your students to get them talking in the discussion!
4. Use Teams to organize students into groups
For some larger class activities, it is useful to organize your students into groups. To do this, you put students into Teams to set assignments for several smaller groups of students. Each group can work on their own Kialo Edu discussion, making it easier to identify and assess each student's contribution.
To create a team, open your My Kialo dashboard and select the Teams section on the toolbar at the top of the page. Click "+ New Team," give it a name and start putting students in. With this, you can also reuse the same team for projects in the future!
5. Keep track of students accounts with Managed Accounts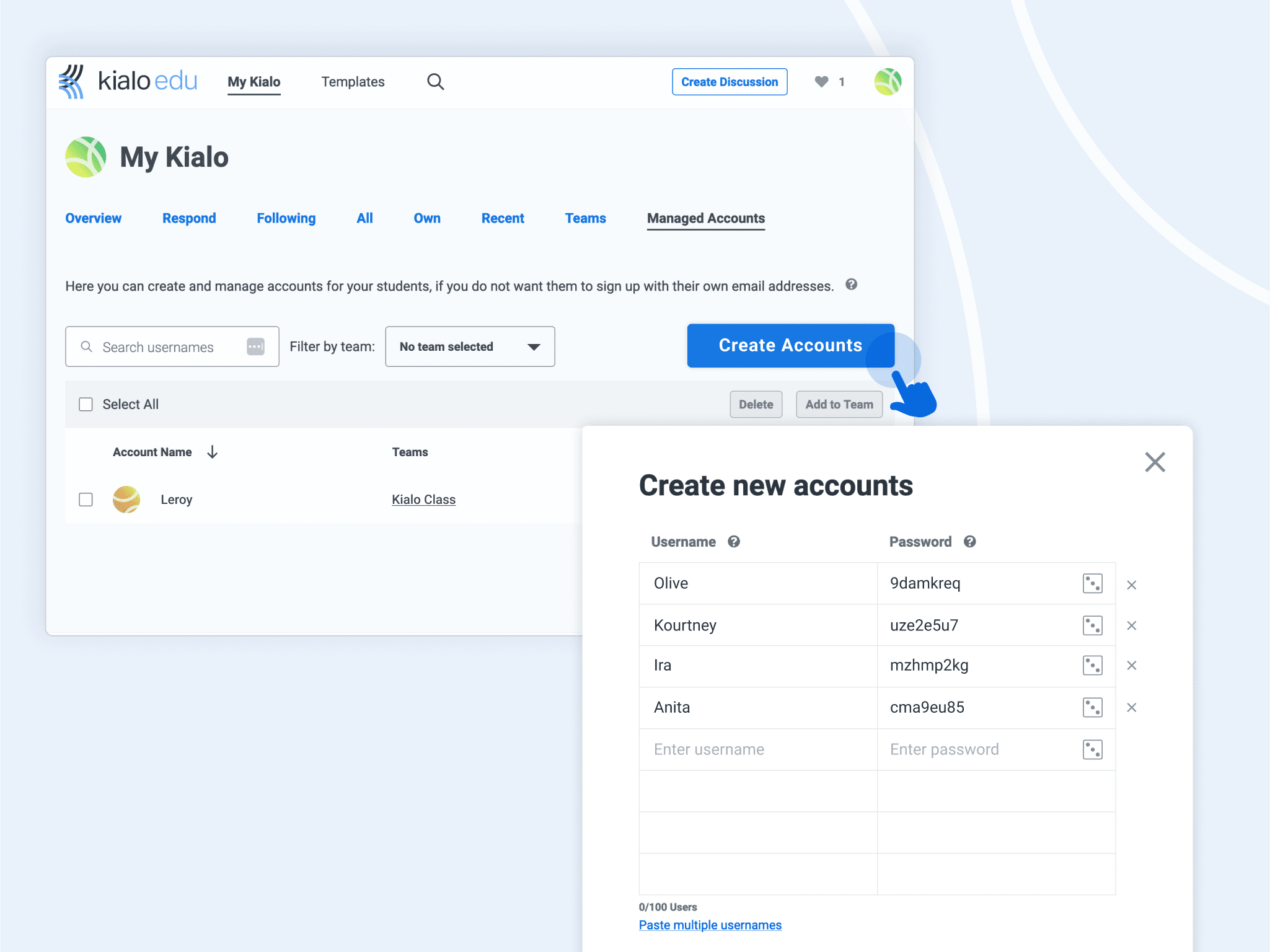 If you're working with younger students, or students who might need more support, you can set up and manage Kialo Edu accounts for them. This gives you the ability to make sure your students have clear and appropriate usernames, though students can still edit their passwords and avatars. You can also edit their accounts or even delete them at the end of the school year. A list will be created automatically once you create a managed account, allowing you to easily sort your students in Teams if you want!
On your My Kialo dashboard, you'll see a section called Managed Accounts. Click "Create accounts," then either enter or paste a list of desired usernames, or select random usernames. After the accounts are created, you can then save these usernames and passwords for your students.
6. Integrate your Google Classroom with Kialo Edu
If you already use Google Classroom, you can quickly import your class into a Kialo Edu discussion or Team. This means that when you import your Google Classroom into a discussion, students can start the activity right away as Kialo Edu accounts are automatically created for your students when they log in using their Google accounts.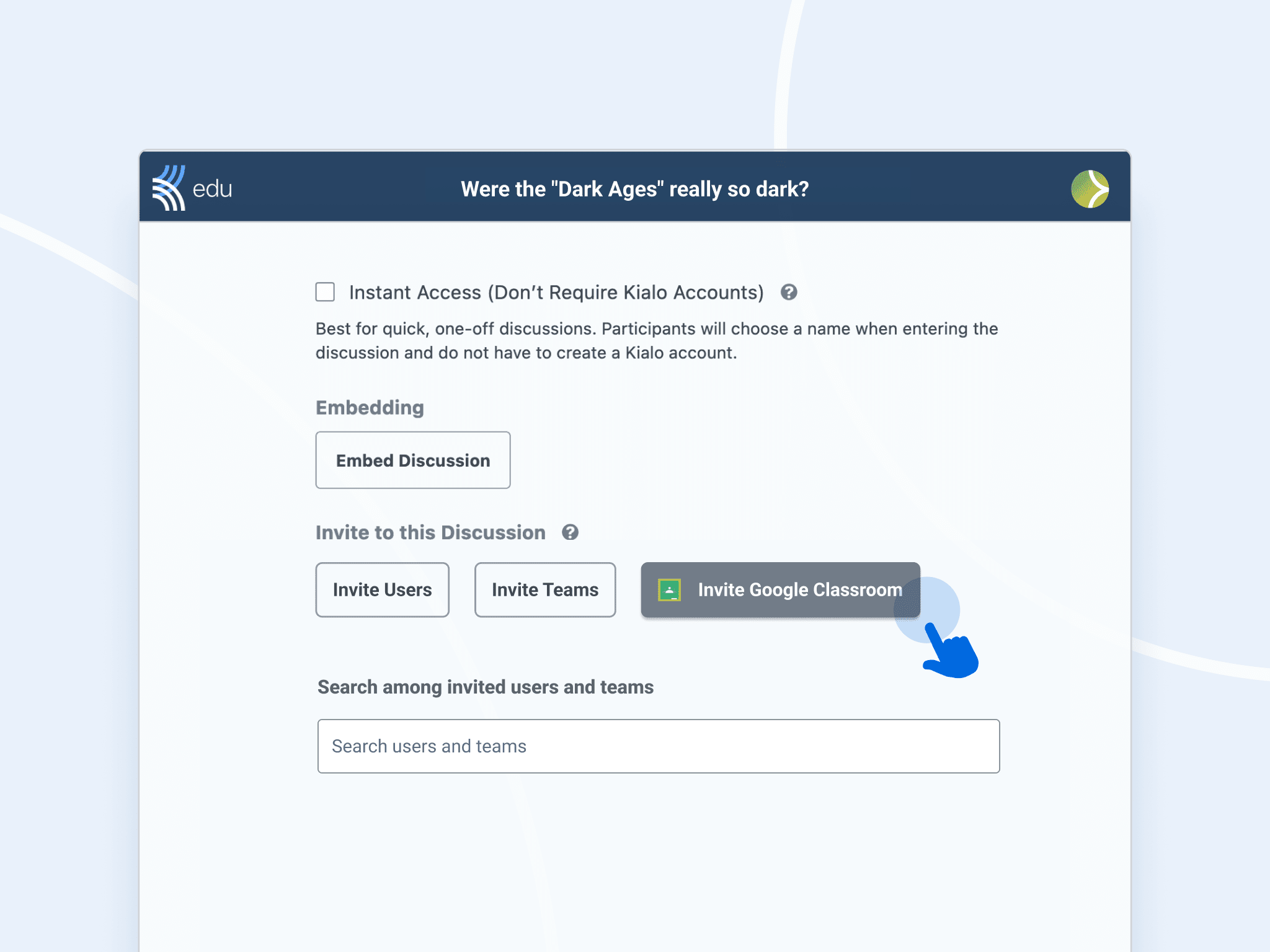 If you want to put your Google Classroom into a Team, go to the Teams tab from your My Kialo page. Then, click Import via Google Classroom and follow the instructions in the popup to connect with Google Classroom. 
These are the top six features that can help you quickly set up engaging class discussions on Kialo Edu! If you want even more ideas, Kialo Edu has even more tools to ensure your next class discussion is a great success. Let us know how you've used our features via social media, or directly at feedback@kialo-edu.com!