Helping students become successful critical thinkers is widely seen as one of the most important goals of education. Some academics have equated critical thinking with "good thinking" or "skillful thinking."1
It has also been described as an essential skill 2 for leading an examined life and as important for participating in and maintaining democratic, open societies.3
At the same time, there are concerns about the state of students' critical thinking skills, as many still lack them upon graduation. Not only that, it can be a tall order to effectively teach these skills. This is where Kialo Edu comes in. Discussions on Kialo Edu are built on the concept of argument mapping, shown in research to be among the most effective ways to train students in critical thinking.
How argument mapping works and helps with critical thinking
Argument mapping describes the visual representation of arguments, their building blocks, and their connections to each other. This builds on formal logic, illustrating the relationship between premises and conclusions visually rather than through formal language. In doing so, it helps to reveal assumptions, unstated premises, and possible objections. Students can create argument maps with pen and paper, but it is much easier to do so digitally — such as through a Kialo Edu discussion.
Research done in university settings during the past two decades indicates that argument mapping is highly effective in improving the critical thinking skills of students. It is significantly more effective than just being at university and more effective than other approaches that specifically target critical thinking skills, such as dedicated courses.4
Some studies even suggest that the benefits of one semester of critical thinking education with the use of argument mapping rival those usually achieved over the course of three or four years of undergraduate education.5
Most of these studies involved two groups of students, one taught with the help of argument mapping and the other without. Students' critical thinking skills in both groups were measured through standardized tests at the start and the end of a university semester. The students who were taught with the help of argument mapping generally significantly outperformed the students in the other group.
There is also some evidence that argument mapping aids in the development of skills such as reflective judgment, memory performance, and improved student conduct in discussions with peers. It also fosters students' respect for others' opinions and their ability to construct and express arguments concisely and precisely.6
Why argument mapping is most effective in training students' critical thinking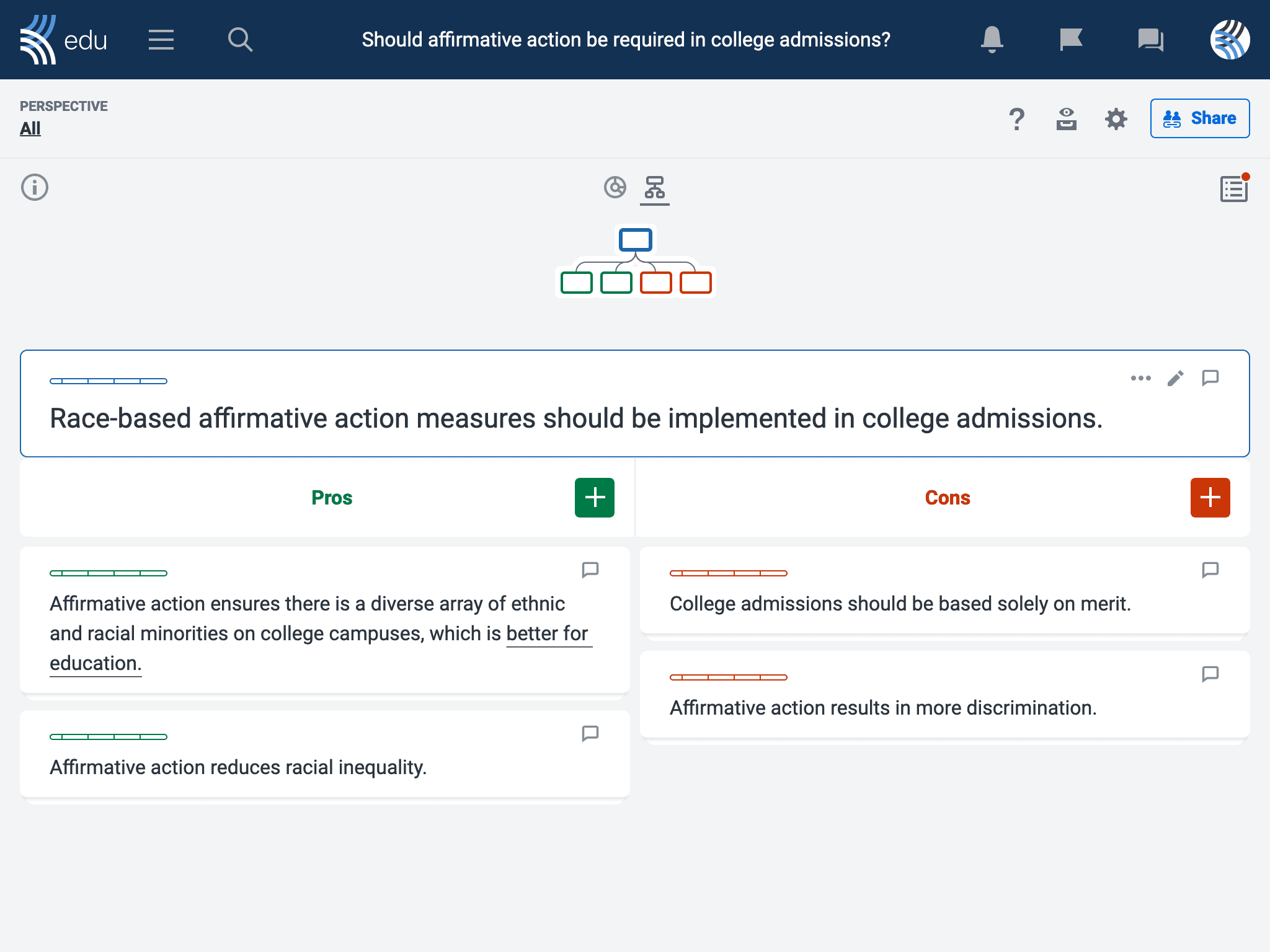 Researchers assume that this effectiveness is rooted in how argument mapping visualizes arguments, their components, and their relationships to each other. As students practice breaking down arguments into their composite parts, the cognitive effort involved is reduced. This makes it easy for students to construct, understand, scrutinize, and criticize them.
Studies have therefore concluded that argument maps "make the core operations of critical thinking more straightforward, resulting in faster growth of critical-thinking skills."7
Kialo Edu embodies this with its discussion tree, which visualizes how premises support or oppose each other, making flaws in arguments easy to spot and mark. The interface of Kialo Edu also promotes a critical engagement with arguments by allowing students to directly comment under them and by encouraging conciseness.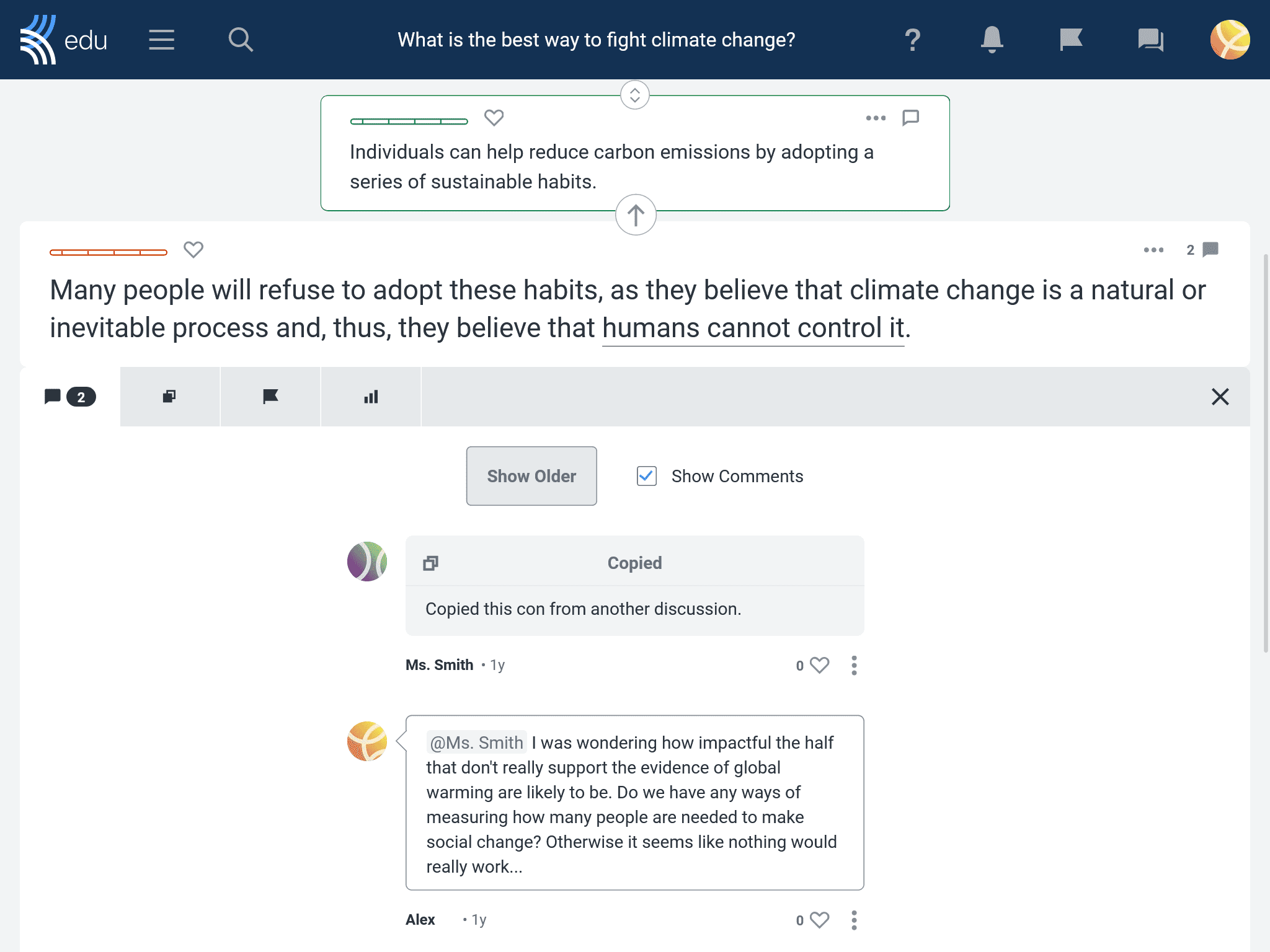 The benefits of argument mapping are apparent, especially compared to merely reading arguments presented in texts. Argument maps like those on Kialo Edu lay out premises and their relationships to each other in a concise and structured format, whereas texts present them in a linear — and often disordered — format and amid connecting grammar and prose. 8
Argument mapping has therefore been described as a form of deliberate practice, and as an activity that helps students to train their critical thinking skills in a focused and targeted manner.9 It differs from other approaches in critical thinking education which assume that these skills are developed as a side-effect of another subject, for example, philosophy or essay writing.
Researchers also argue that using argument maps makes life easier for educators. The technique makes it straightforward to spot and pinpoint problems in students' arguments since they are not hidden behind prose.10 Argument maps also allow educators to provide targeted feedback, and to do so during the process of reasoning and constructing arguments, not only after they have been turned into longform text.11
Again, Kialo Edu makes many of these benefits of argument mapping easily accessible in its discussions. Educators can provide students with feedback under their arguments in real time while a discussion runs. They can also direct the activities of students with Tasks to ensure, for example, that they add sources to their arguments.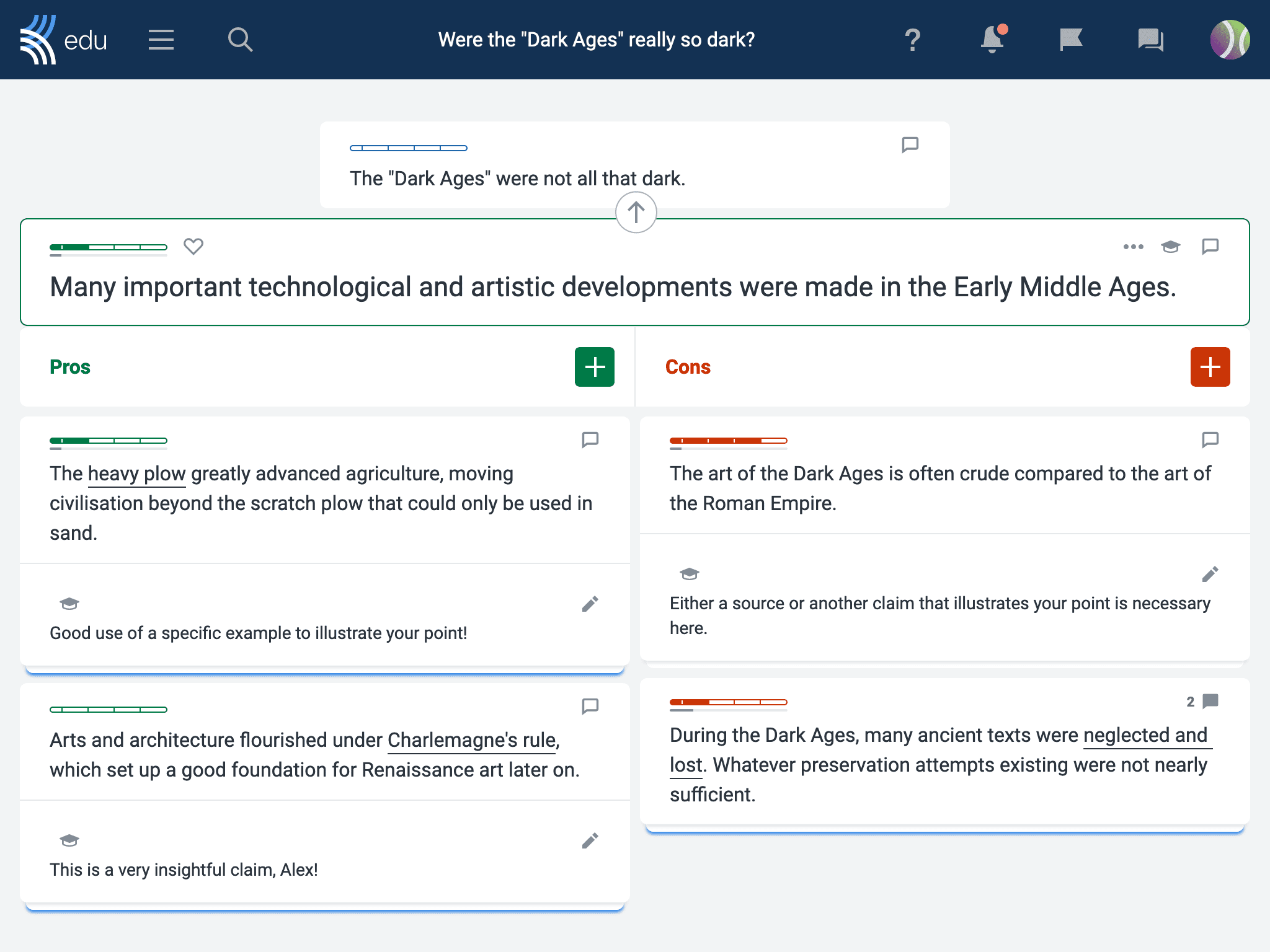 A study at Rikkyo University in Tokyo indicates that students, too, perceive the use of Kialo Edu as useful for enhancing their critical thinking skills, for seeing and understanding other perspectives on issues, and for preparing class debates.12
In a commissioned study by John Hopkins University, researchers also evaluated the utility and usability of Kialo Edu's interface for teaching.13
In the light of the empirical evidence of argument mapping as an effective tool at training critical thinking skills, some researchers have argued that "the argument mapping approach to teaching critical thinking is long overdue."14
Kialo Edu strives to make this as easy and accessible as possible, both for educators and students. Have you given argument mapping on Kialo Edu a shot? Let us know about your experiences on social media, or directly via feedback@kialo-edu.com!
Looking for more inspiration on how to teach critical thinking in your classroom? We've got lots of other resources!
Footnotes