Kialo Edu is a powerful tool for developing crucial critical thinking skills among students — and don't just take our word for it! Our dedicated team is working hard to continuously research and build Kialo Templates that can help busy educators more easily hold class discussions on a variety of debate topics.
These templates are discussions pre-made with a topic, thesis, and a few prompts to kick things off. To make things easy, they are graded by age group and searchable by subject area. Whatever your curriculum focus, we're certain you can find a great resource in our ever-expanding library!
What are Kialo Templates?
Kialo Templates are ready-to-go discussions — just add students and start debating! The vast majority are single-thesis discussions, which include a discussion name, an image, a single thesis, and some top-level starter claims either supporting or refuting the central argument. We also have some multi-thesis discussions, the only difference here being—you guessed it—there is more than one thesis!
Many of our templates also contain a few paragraphs of Background Info, introducing the debate in a way that is accessible for students with no prior knowledge of the topic. These texts have been carefully graded for reading level and composed in an engaging way, so you can let students take the lead in interpreting the information!
Finding the right discussion template and debate topic for your class
If you're looking for a template on a precise topic—say, The Great Gatsby, or the Gini coefficient—the Search bar is your friend. Just open up the Templates tab and search by keyword!
If you're looking more broadly for a topic relevant to your students, or simply want something fun to try out the Kialo Edu platform in class, then use our drop-down menu to browse the topics most appropriate to your needs. All our templates are classified by subject category and age level, so it's easy to see what's on offer.
For example, you might be looking for an introductory debate to engage a class of 9-year-olds after the summer vacation. Select Just for Fun / Icebreakers in the category section, and Ages 8-10. You'll find a range of debates covering topics as diverse as if pineapple belongs on pizza, or whether a beach or mountain vacation is better!
Want to assess taught knowledge in your high school economics class? Select the category Economics & Business and filter by Ages 15-18, and you'll find templates asking questions like whether the minimum wage should be raised, or whether tourism can help to reduce development gaps.
Starting a discussion
Once you've found the right template for your students, it's just a few easy steps to start using it. First, click Enter, then Use Template in the top-right corner. If you want to keep the top-level claims we've created, select Include Claims. If you're happy using the template as is, all you need to do now is to click Skip rest and create, and you're ready to start inviting students!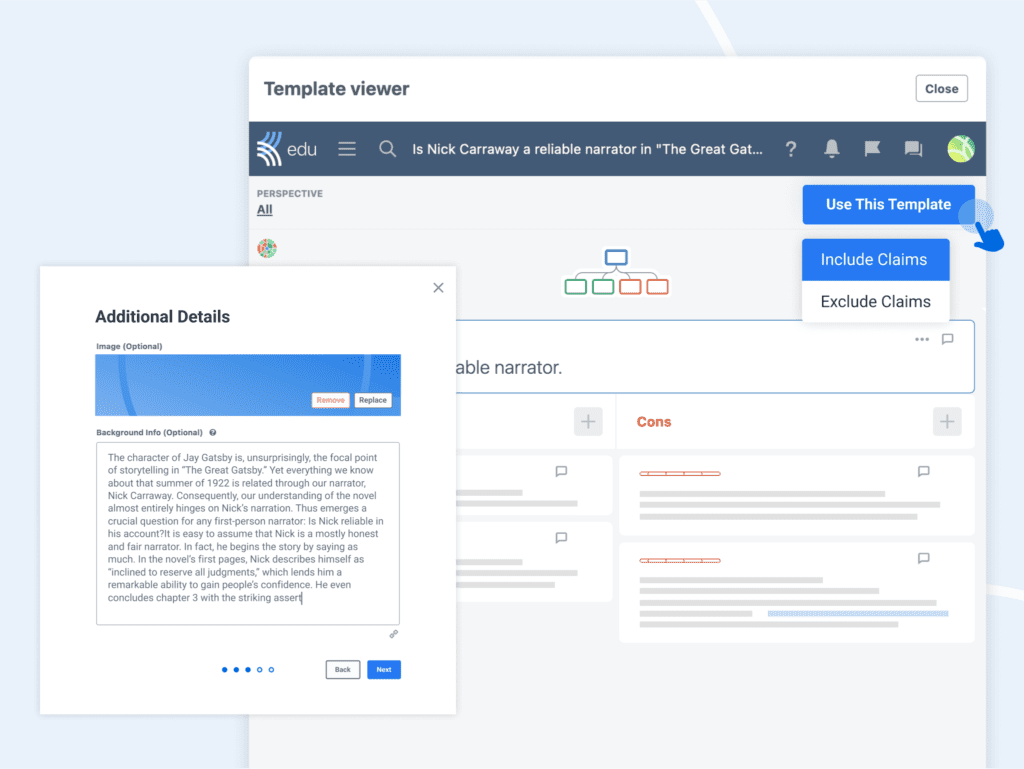 Customizing a template
While all our templates are ready-to-use, they're also completely customizable. That means you can change the title, header image, background info, thesis, and starter claims! You can also add (or remove) claims before sharing the discussion with your students. Instead of clicking through Skip rest and create, click through using the Next button and edit the information as you see fit.
If you'd like to assign a Kialo Edu discussion as out-of-class work, why not add relevant text or video links to the Background Info? This is a great opportunity for students to discuss and reinforce a topic they have learned about. You can even add some more claims based on their input before sharing it with students. There are many creative ways to tweak our discussion templates so that they work best in your particular education setting.
A selection of debate topics from our library
The best way of getting a feel for our selection of templates is by checking them out yourself! But here's a brief slice of what's on offer to whet your appetite.
A debate on if cats or dogs make the better pet is a familiar subject for students and makes it perfect for practicing the key skills of critical thinking and argumentation. It's also a perfect introductory discussion for students of any age to familiarize themselves with the Kialo Edu platform!
Our dedicated team works hard to create templates to complement core subject curricula. Here is one from our wide range of history templates, on whether the United States should have entered World War I earlier than it did. Graded for students aged thirteen and older, it makes accessible one of the key issues of 20th-century history.
Want to tackle deeper, ethical questions with your students? Kialo Edu is the perfect platform for facilitating these complex philosophical debates. Focusing on one of the leading questions in bioethics, this template deals with the genetic engineering of human embryos. Equally applicable to biology or ethics classes, it's just one of our many templates tackling fundamental social and philosophical questions.
Whether you have a suggestion for a template topic, want to tell us about a particularly fruitful discussion you've had, or have found an exciting new way of using our platform—we're always delighted to hear from you! So connect with us on Twitter, Facebook, or send us a message at feedback@kialo-edu.com.
And of course, if you haven't already, create a free Kialo Edu account and start using our template library. You might be surprised by what you find!