Now more than ever, teachers are looking for alternatives to using essays as assessments. The reasons are understandable: Essays are long pieces of work that can take ages to grade! Moreover, with the rise of AI tools like ChatGPT, students have even more ways to cheat.
Kialo Edu is a great essay alternative that can help to assess a student's understanding and analysis of a topic. Best of all, it allows students to improve their essay-writing abilities while focusing on honing their argumentative and research skills.
The advantages of using Kialo Edu as an alternative to essays
1. Students can better train their argumentation and critical thinking skills
Many students may struggle with the more abstract parts of essay writing, like putting together longer chains of argumentation and criticizing their own arguments.
By following Kialo Edu's unique pro-con structure, students are prompted to string together smaller arguments while adding and addressing any counterclaims. This is especially great for training students' critical thinking skills, since they are prompted to really engage with their own arguments.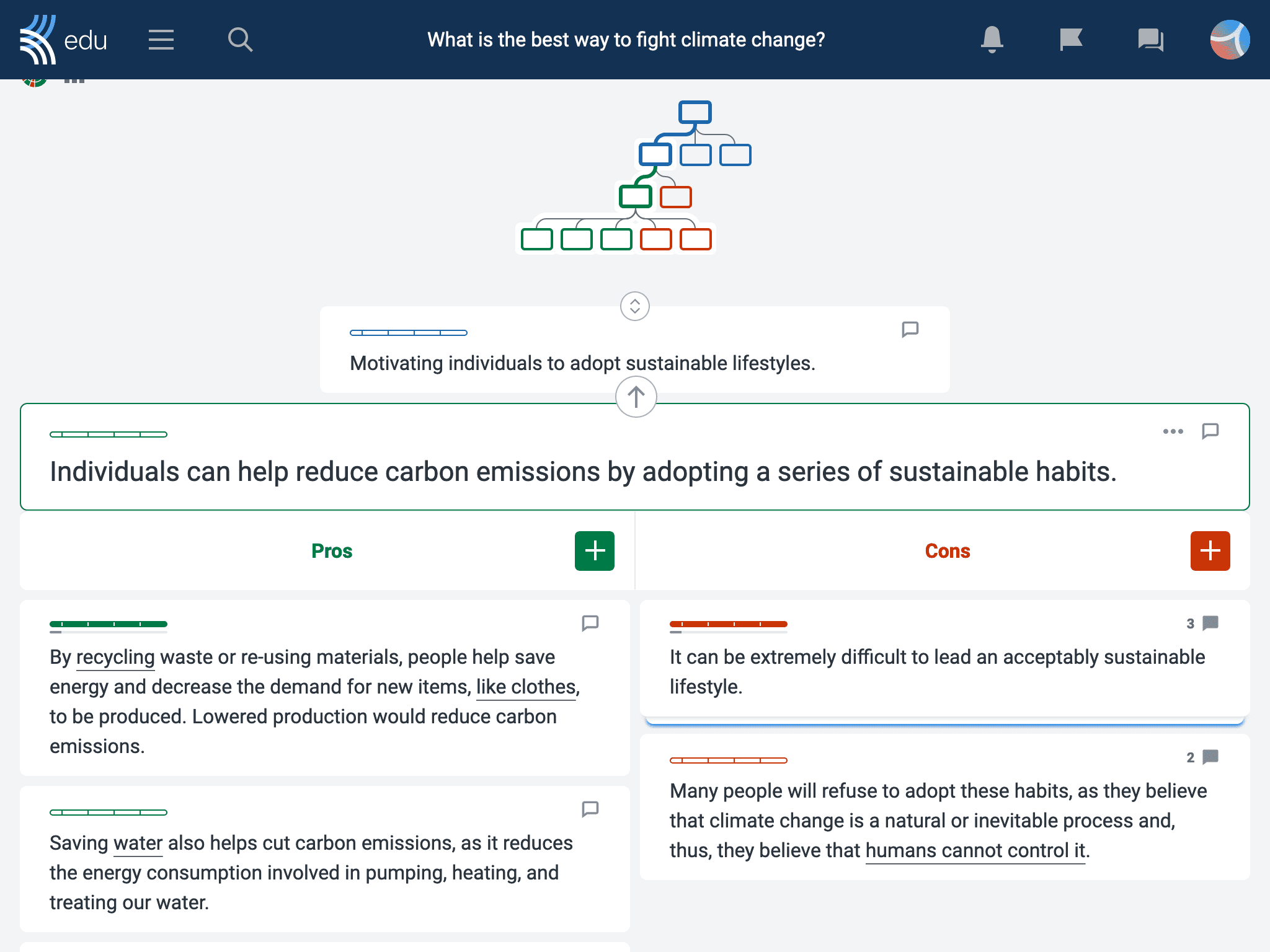 2. Teachers can give more individualized feedback and assessment to students
On Kialo Edu, teachers can give individualized feedback and grades to each student — this includes giving feedback on the discussion as a whole, or on individual claims. 
This means that teachers can help students develop their essay outlines through stages of feedback. Students can then rework their claims, evidence, and arguments before putting it in a final essay form.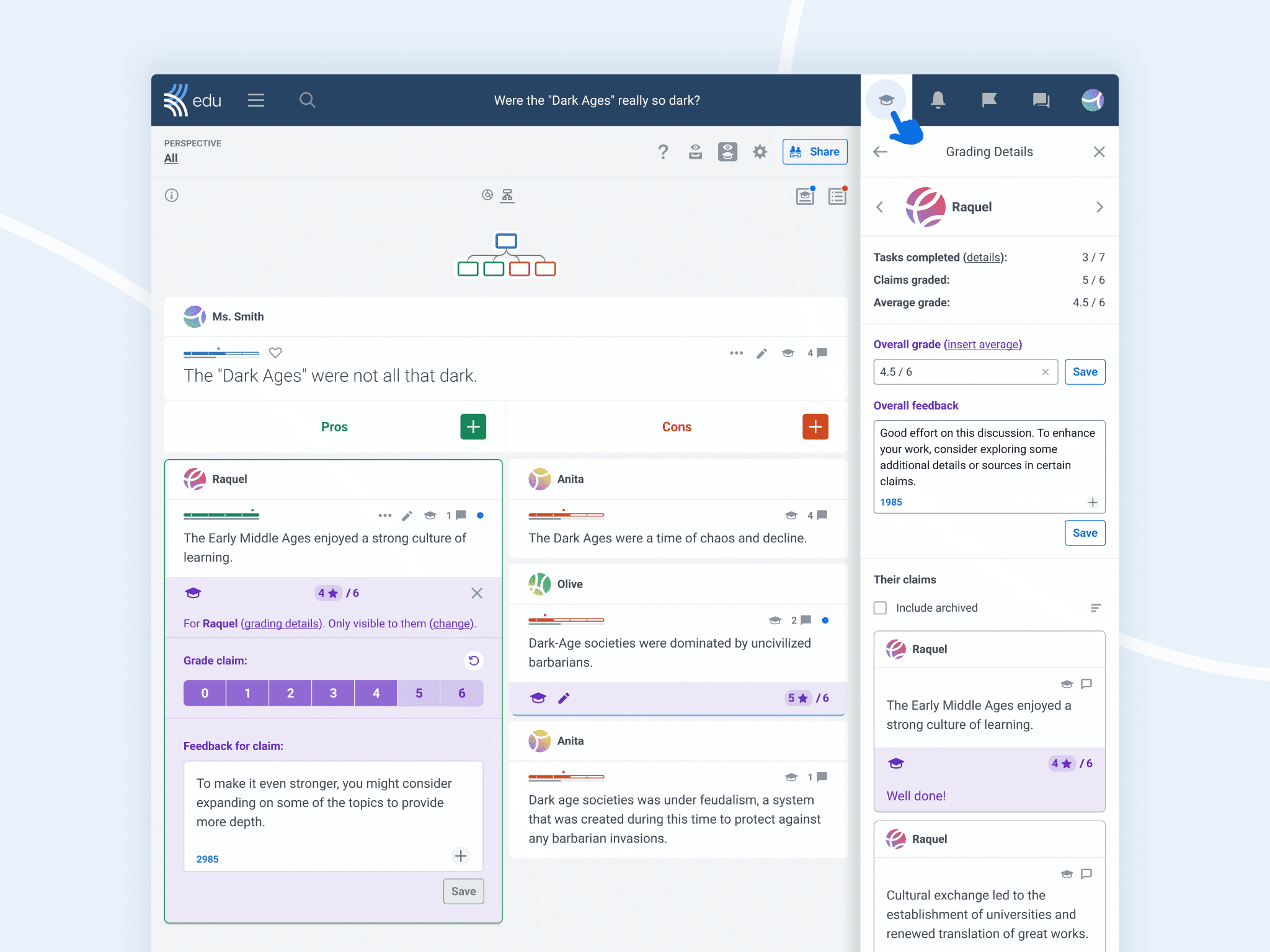 3. Students can hone their research skills by adding sources and evidence
For researched-based essays, students must have the ability to identify and use credible sources to back up their arguments. On Kialo Edu, students can easily link and save both online and offline sources they've used for any part of the discussion.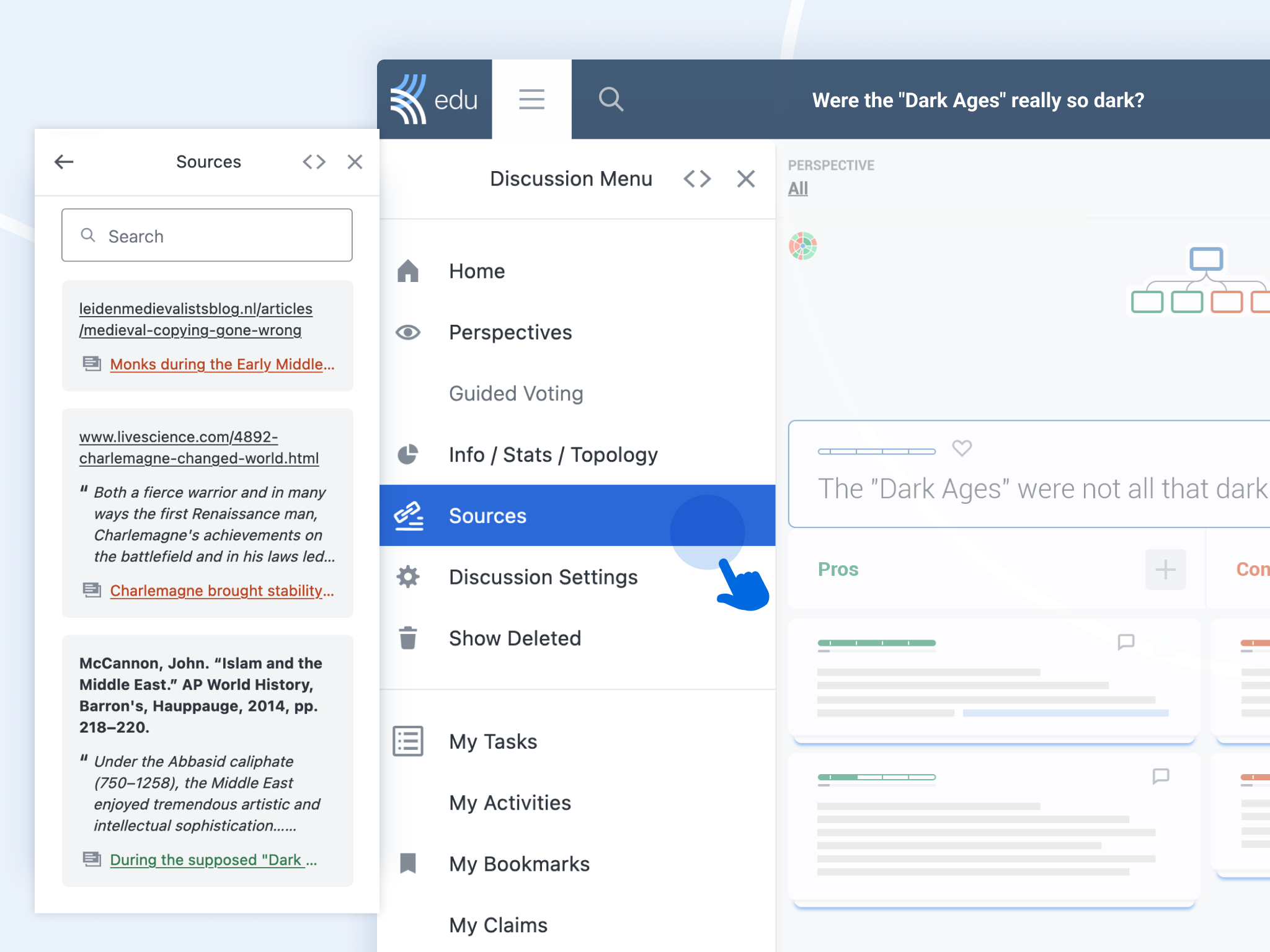 Rather than scrambling at the last minute to gather their sources into a bibliography, Kialo Edu also ensures that sources are saved in a handy list for teachers to easily check and refer to as needed.
4. Teachers and students can use time efficiently using Kialo Edu as an essay alternative
Assignments on Kialo Edu take less time to write and grade compared to traditional essays, as students do not need to write long paragraphs, topic introductions, or transitions between arguments. They can get straight to the point of their arguments without worrying about style and fluff.
On the other hand, you can also assign projects that students can take their time developing in their own original ways, without having to rush and fit in all the work in a short class period. Students can access Kialo discussions from any device at any time — particularly helpful if you use an LMS to manage your class content where you can integrate a Kialo discussion!
How to use Kialo Edu as an essay assignment alternative
You can easily set up Kialo Edu as an alternative to an essay assignment in a few steps:
1. Set up a Kialo Edu discussion
Start by creating a Kialo Edu discussion, adding the essay question as the name of the discussion and the thesis statement in the thesis.
Then, your student will argue for one side of the discussion. You can add the top-level claims yourself to get students started, or you can have your students do it!
2. Add Background Information and tasks
Next, you can add instructions for each student in the Background Information of the discussion. These instructions should lay out what their tasks will be as well as any reminders you have for them.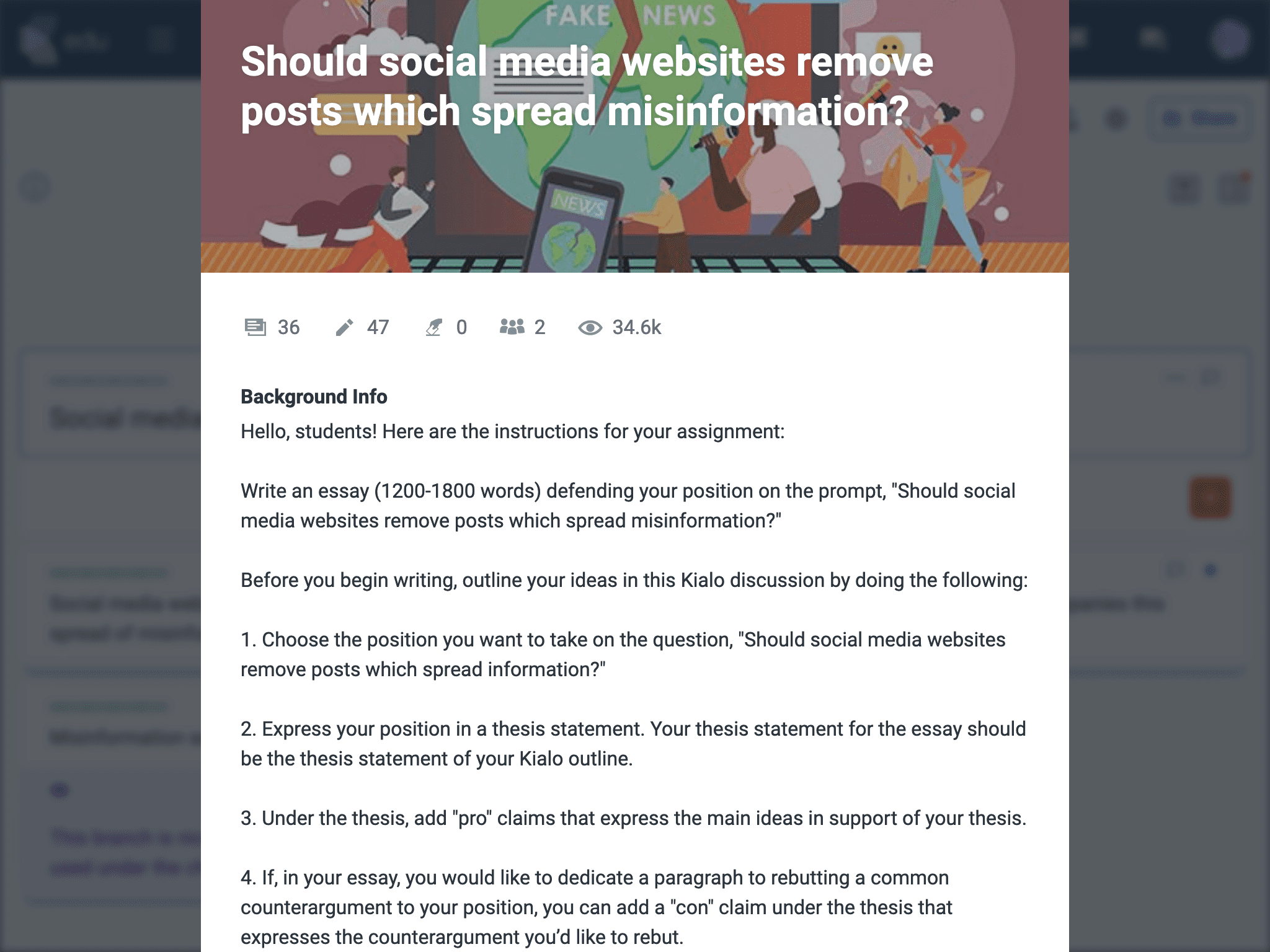 Then, use the Tasks feature to give your students a clear number of claims to make and sources to attach. For reference, a 1,000-word essay translates to approximately 30 claims when a couple of quotes from sources are added in.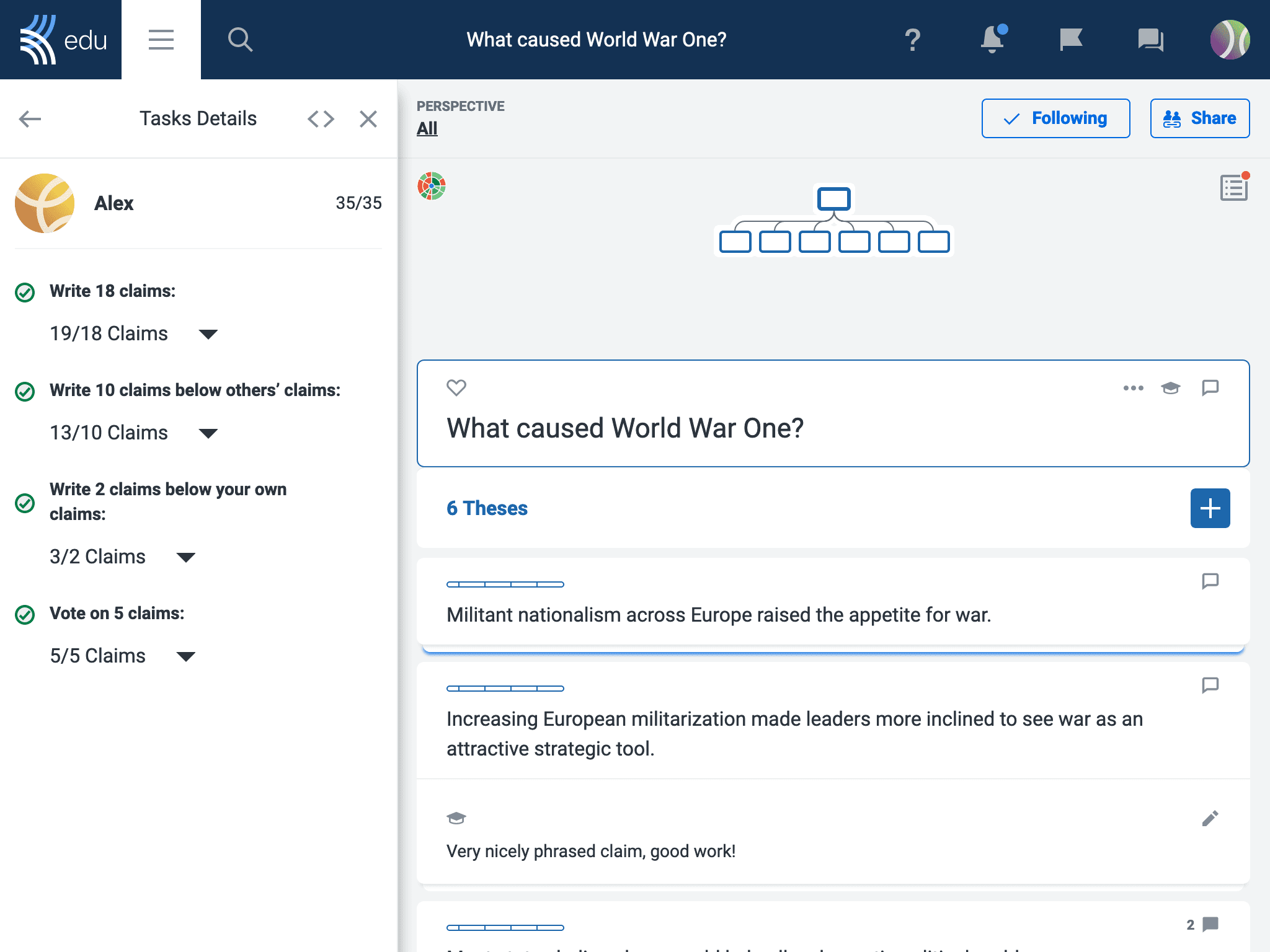 Once you've decided on the Tasks, you're done setting up the debate! Clone the debate for every member of your class and have them start writing claims.
3. Student adds claims and sources
From there, each student will go in and add claims to their own debates. They will have to use their critical thinking skills to select the arguments to best support (and rebut) the thesis, the sources they want to add, and the best structure for outlining their point of view!
If you'd like to share with us how you used Kialo Edu as an argumentative essay alternative in the classroom, connect with us on any of our social media platforms, or directly at feedback@kialo-edu.com.