Essay writing is one of the most important skills taught at schools as well as one of the most complicated for students to learn. That's because there isn't much consensus for how teachers should tell their students to develop arguments or structure longer-form essays. 
Part of the problem here is that students need to be proficient in many different skills when writing essays. A well-written one must have a clear structure, effective supporting arguments and sources, as well as engage with criticisms.
This is especially true with long-form or capstone essay projects that require students to do extensive research and planning before they even start writing. With those challenges in mind, you can use Kialo Edu to help your students develop all the skills necessary for planning well-researched, structured, and compelling essays!
The advantages in students using Kialo Edu to plan essays
1. Organizing research
When they are first learning to write research essays, students might not have clear ways to keep track of all their sources and information that they will rely on. However, every Kialo Edu discussion has a Sources tab that automatically saves every source and quote as a student builds it out. This way, when a student uses a source, they'll be able to keep track of it — page number included!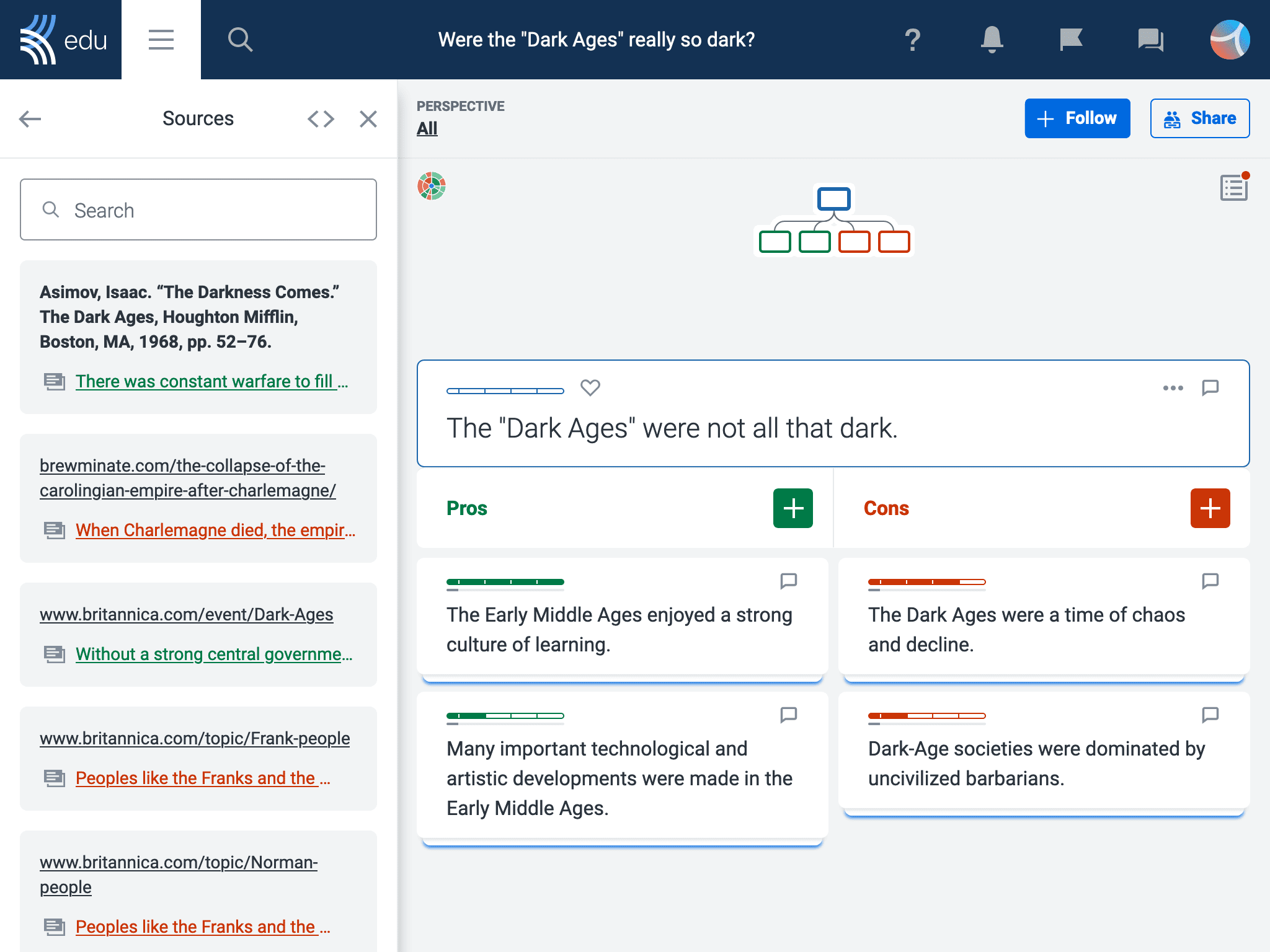 2. Receiving and implementing more targeted feedback
Given the many skills that are involved in essay writing, students can feel overwhelmed by the feedback they receive and thus lack the ability to properly implement it.
Kialo Edu has several features that can help students target specific issues more directly. For instance, teachers can provide general feedback in the Discussion Chat, or through using Teacher Feedback on individual claims. In the example below, a teacher attaches their feedback (signified by the graduation cap icon

) to the bottom of the student's claim, so a student can easily see it.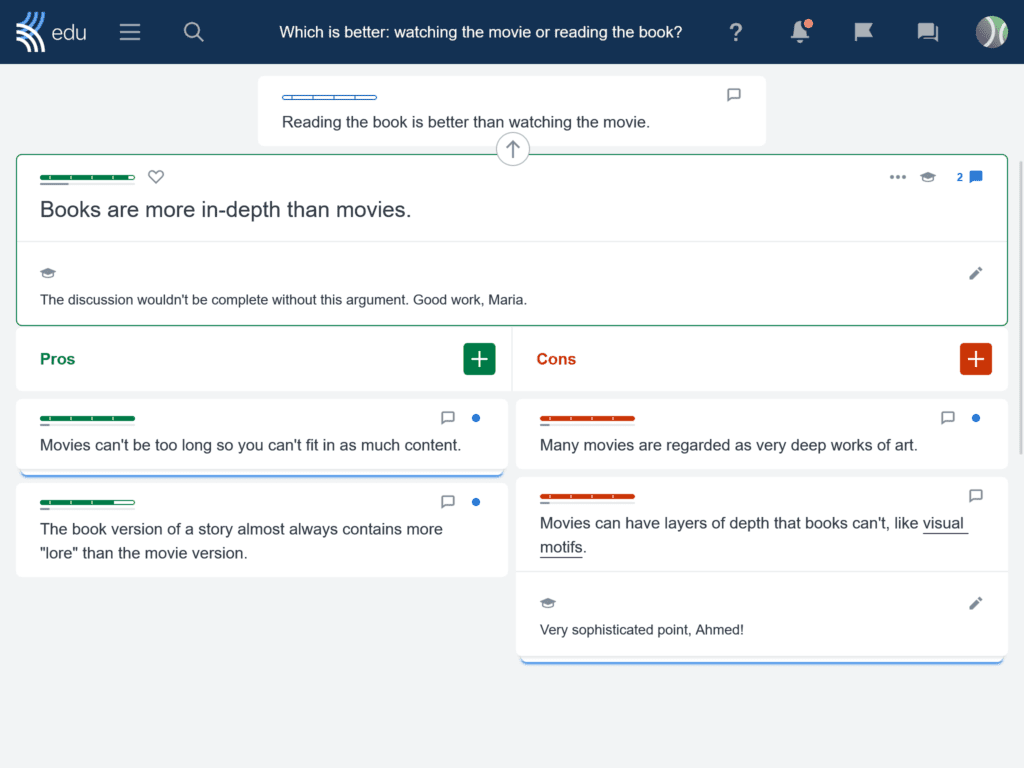 Being able to more easily receive and implement feedback can help students build the different parts of their essay in stages. First, students can prioritize selecting a good argument. Then, they can work on developing and structuring it well and using their sources properly. Finally, students can focus more on their style once they put it all together in essay form.
By breaking down the essay writing into stages, students are less likely to be overwhelmed by confronting all the elements in essay writing at once.
3. Keeping essays structured
It can be difficult for students to develop and structure long-form essays, in which they have to explore and analyze several lines of argumentation. However, Kialo Edu's visually structured argument maps provide an intuitive way for students to flesh out their arguments.
Here, students use higher-level claims as topic sentences, while using lower-level claims to provide support for more general arguments. By making their claims short and containing a single point, it is easier for students to construct longer chains of reasoning that follow each other. 
Beyond that, students can also experiment with different structures in a visual way, moving claims to different areas of the discussion to see where they work best.
4. Considering counter-arguments
In long-form essays, students usually must consider challenges to the arguments they are making. Yet, a lot of students struggle finding ample support for the oppositional side.
Kialo Edu's pro and con structure makes this a lot easier to do. Students are prompted to add counter-arguments, which can make it intuitive for them to consider challenges to their thesis. By moving these con claims to different areas, they can also identify where they are most salient and how best to respond to them.
How to set up Kialo discussions for essay planning
You can set up Kialo Edu discussions for your students to help them plan their essays. They can use this space to practice writing claims and developing their arguments. In turn, you can use this discussion to add detailed feedback for your students. Set one up by following these simple steps!
1. Set up a Kialo Edu discussion
Start by creating a Kialo Edu discussion and sharing it with your students. You can set the essay question as the name of the discussion, and add the essay's thesis statement as the thesis.
Optionally, you can add a set of starter top-level claims for your students, or you can have them come up with all the arguments!
2. Task students to add claims
From there, you can use our Tasks feature and direct students to create claims and add sources. We recommend starting by tasking students in creating a small number of claims so that they can focus on making a clear argument and identifying the ways they will seek to prove it.
3. Give feedback
After students have added their initial claims, you can give them feedback, focusing on how successfully their argument responds to the essay question. At the same time, you can set more tasks for students to populate the discussion and add greater detail to their essays. You can choose how many cycles of tasks and feedback you want — the longer the essay, the more claims that students should write.
4. Have students turn the Kialo Edu discussion into an essay
Once students have developed the discussion to your liking, they can turn it into a traditional essay. It will be much easier for students to organize their information as they will already have all the content structure and their topic sentences. As a result, they can focus on putting together and writing their essay!
Essay writing doesn't need to be so hard for teachers and students alike. By separating and focusing on the individual skills involved in essay writing, teachers can help their students grow more confident and able. If you've given us a try for long-form essays with your students, let us know at feedback@kialo-edu.com or on any of our social media platforms!