Schools across the United States are harnessing the power of debate and discussion to develop students' skills in communication and critical thinking, and many have already discovered the benefits of using Kialo Edu to host engaging and interactive discussions. But did you know that a Kialo Edu discussion also offers multiple ways to meet Common Core Standards in English Language Arts (ELA) from Grades 6 to 12?
Let's explore how activities on Kialo Edu align with Common Core Standards for language, speaking and listening, reading, and writing.
Quick links to curriculum alignment tables: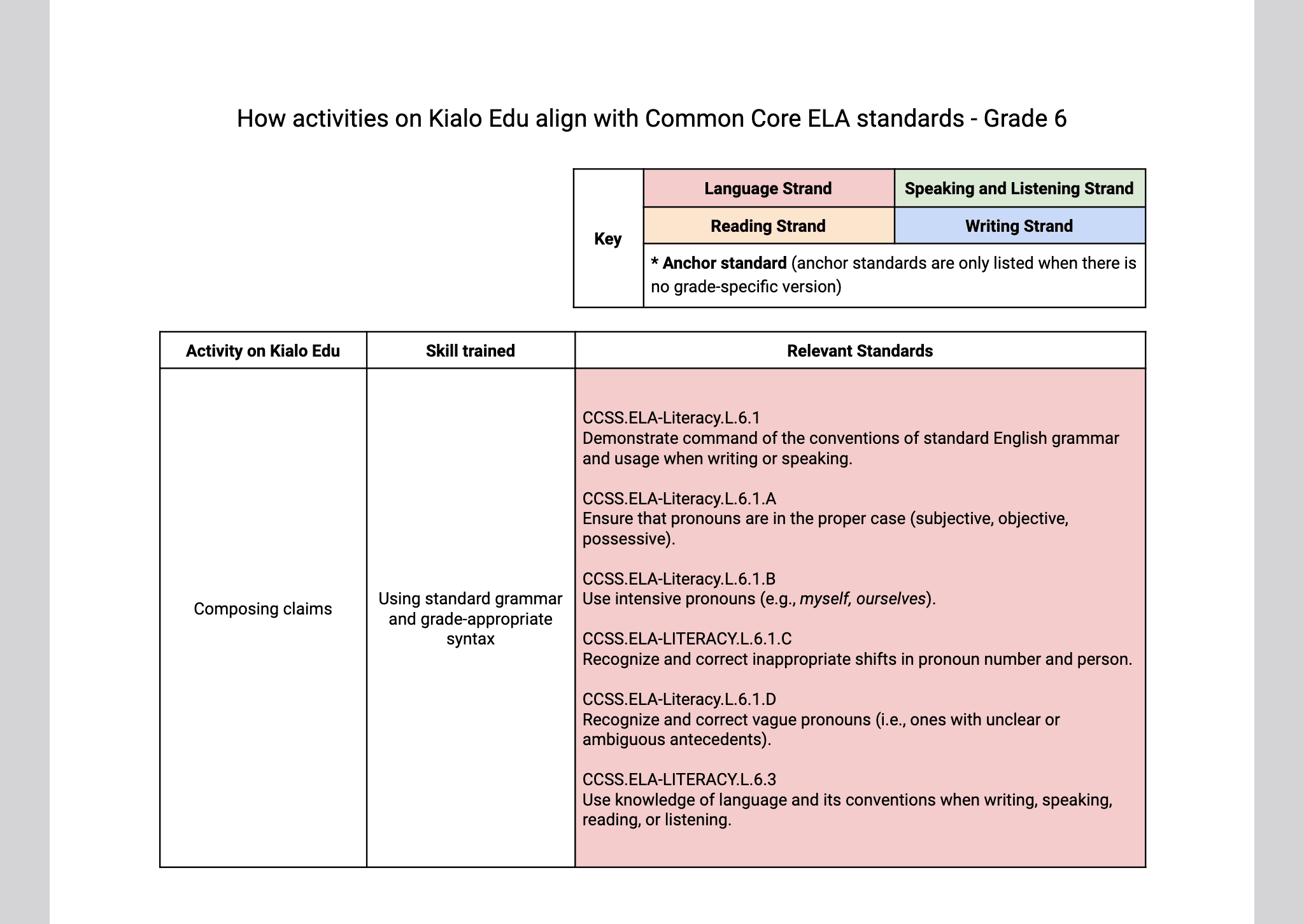 Composing claims
Writing and editing claims on Kialo Edu is such a simple way for students to meet a range of ELA standards! Because students usually write claims for others to read, they will quickly recognize the need for standard English grammar and orthography when presenting their ideas.
Students can also apply their knowledge of formality and precise language choices to develop an academic style, progressing to writing objective claims in Grades 9 to 12. Creating claims also provides the perfect context for acquiring and using domain-specific vocabulary. The outcome is that students can meet a host of language and writing standards by composing just a few carefully considered claims on Kialo Edu!
Using the visual argument-mapping structure and sources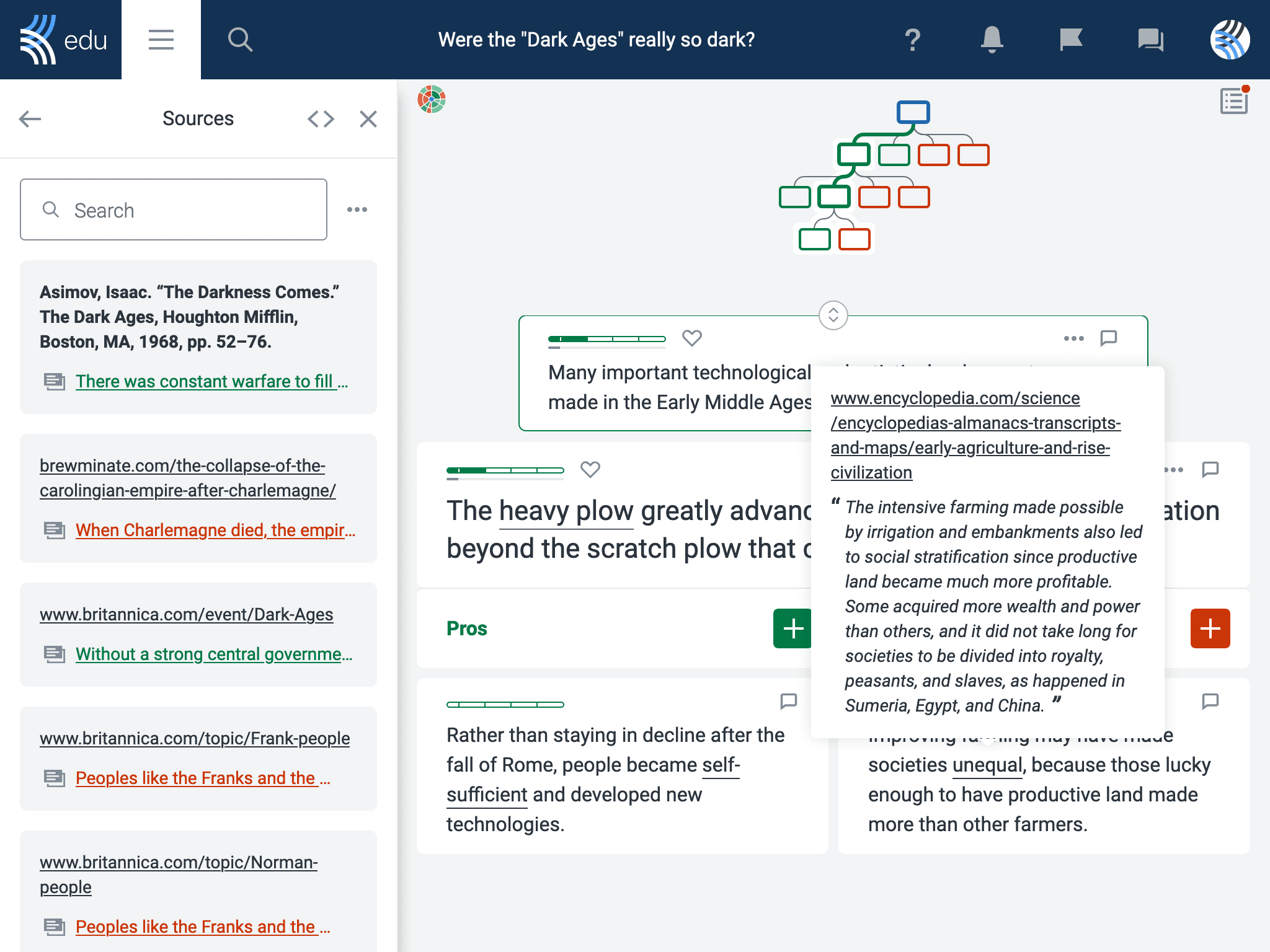 Students will quickly realize that using supporting evidence is the key to a successful claim. Engaging students in topic research prior to discussions will enable them to identify suitable sources.
During discussions, they can then use text from a source or link to information presented in diverse formats. Each source is collated in a convenient sidebar, which is available throughout discussions and also forms the perfect resource to teach about credibility, plagiarism, and bibliographic referencing.
To aid students' organization skills, all this information is automatically presented in the form of an argument map. This visual structure trains pupils to establish clear relationships amongst claims, counterclaims, reasons, and evidence, which they can then build on in verbal discussions.
Creating an in-depth topic map
The versatility of an argument map also makes it the perfect recording tool for research projects! Students can create an in-depth topic map in response to a research question by writing claims and finding supporting evidence. Teachers can easily give students ownership of discussions, so as projects progress, students can generate additional research questions to create new Kialo Edu discussions.
Moreover, students can copy existing claims into new discussions or create a link to a previous discussion. They can even use their topic maps to structure a related essay or presentation!
Interacting with others and / or others' work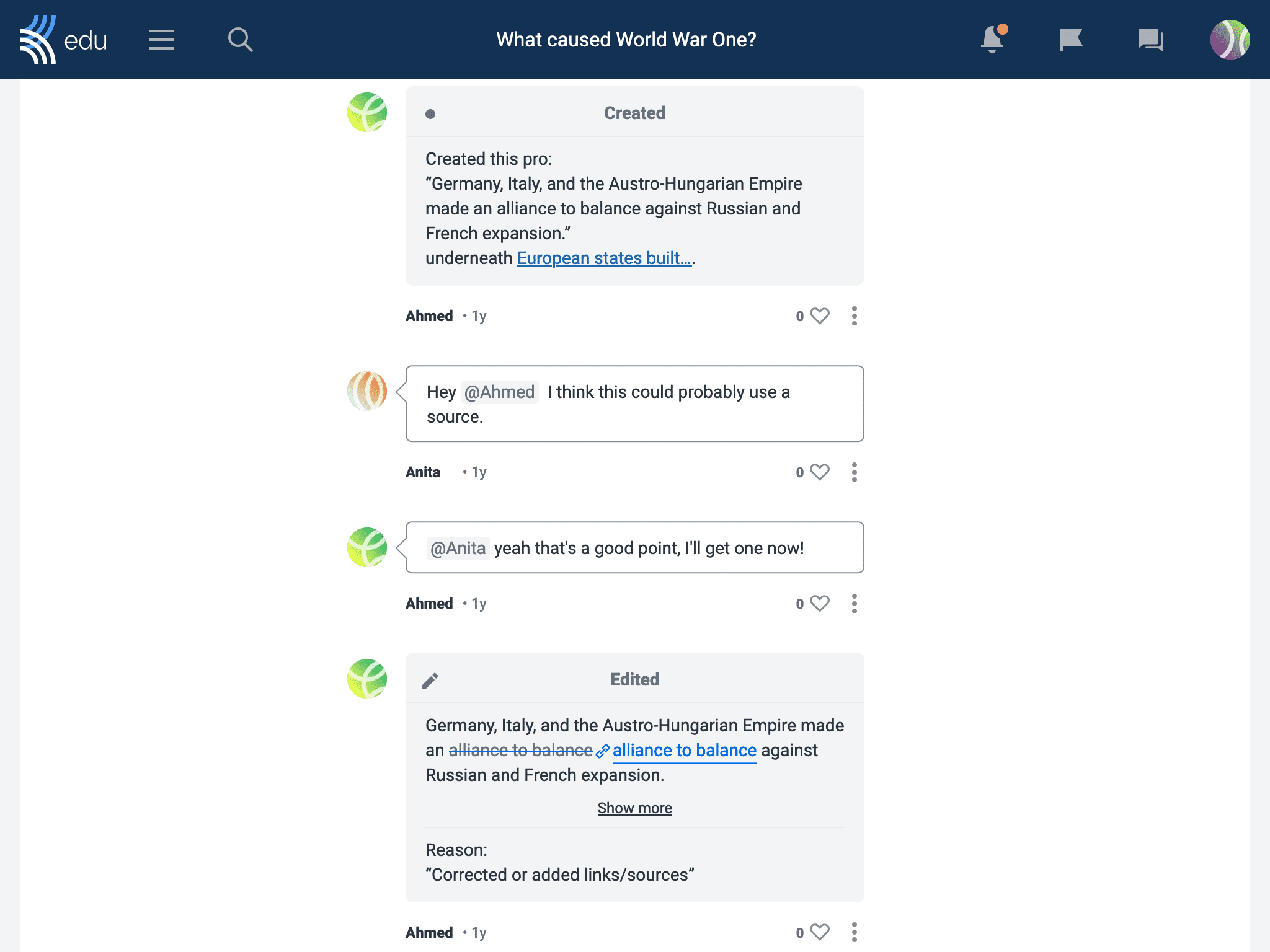 Kialo Edu facilitates effective engagement in collaborative discussions, with the written format perfect for those students who prefer to remain silent in verbal debates.
In a Kialo Edu discussion, students can express their own ideas clearly and build on those of others. Acknowledging new information is easy through writing responsive claims or comments. And because students can view the full discussion in the argument map, they can also take time to reflect on multiple perspectives and modify or justify their own views in light of evidence. Older students can use the platform to hold civil, democratic discussions and use argument maps for decision-making.
The speed of a verbal discussion can make evaluating reasoning and evidence a challenge — for teachers as well as students! Instead, using Kialo Edu gives students time to complete extensive evaluations. Younger students can begin by using voting or comments to identify unsupported claims, progressing to judging the quality of supporting evidence. By Grades 11 to 12, students can conduct in-depth assessments of evidence and reasoning. And educators can easily carry out their own evaluations, offering targeted feedback to pupils!
Using Internet technology
Not only can students meet all these standards, but as Kialo is an online platform, students can hit technology standards for writing, too! Using the argument map, students can create clearly organized plans when producing and publishing writing, presenting the relationship between ideas and information efficiently, and easily linking and citing sources.
And students will learn that the outcome of a discussion on Kialo Edu — just like in the real world — may not be final. By Grades 10 and 11, students can use our technology to update shared discussions in response to ongoing feedback, including new arguments or information.
So, as well as participating in fun and interactive discussions on Kialo Edu, your students can also meet a multitude of ELA standards! What's more, each digital discussion remains accessible on our platform, acting as an assessment record whenever you need it. Head to our collection of curriculum-linked debate topics now to start discussions in your classroom!
Downloads